Maxum Business Incubator
Value Added Services
Application Process
Contact Details
Application Form
Maxum Business Incubator
The Maxum Business Incubator develops the business leaders of tomorrow by providing an enabling environment where start-ups from the knowledge intensive sectors are fast tracked to compete in the global village. Incubation creates a synergistic environment where entrepreneurs can share learning; create working partnerships; as well as open doors to markets and resources.
The pre-incubation programme (renamed Maxum Innovation Factory) is between six to nine months duration and the main incubation programme (Maxum Core) lasts up to three years. In pre-incubation, entrepreneurs are assisted to refine their business cases and finalise their prototypes, whereas in main incubation the focus is on commercialisation, growth in revenues and sustainability.
Focus Areas
There are four categories in which entrepreneurs fall under; Mobile, Smart Industries, Bio Economy, and Green Economy.
Within incubation, entrepreneurs are categorized as pre-commercial; companies who are still in the initial development stage of their business or commercial; companies that have secured an investment or made a sale from a willing customer.
Value Added Services
Value Added Services available for companies enrolled in Maxum Business Incubator, Climate Innovation Centre and BioPark Incubator.
Professional Services available to all companies at no cost: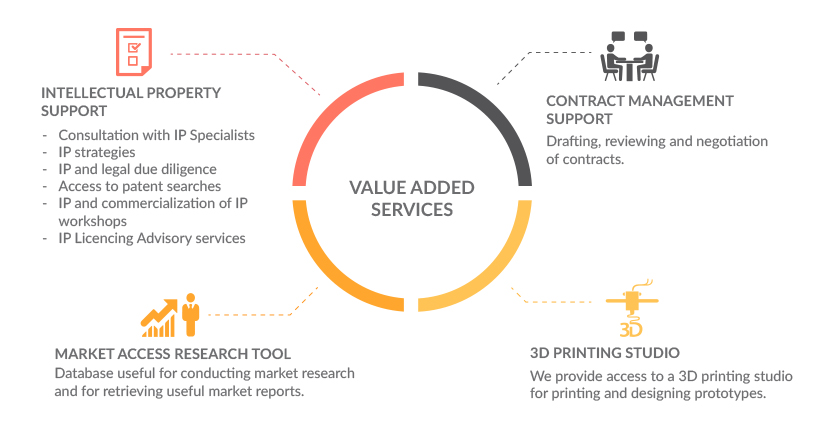 Application Process
Upon receiving your application, it goes through an evaluation process where it is determined whether it has been accepted or declined. If it is accepted, you are then invited to a pitching session with a panel of judges, and in which you are allocated 30 minutes; 10 minutes presentation and 20 minutes Q&A.
To fill in an application form, please download it here.
Once completed, email it back to maxuminfo@theinnovationhub.com.
Contact Details
Ingrid Mokenene
Tel: 012 844 0012